Celebrating great workplaces. Certification Nation Day, May 17, 2022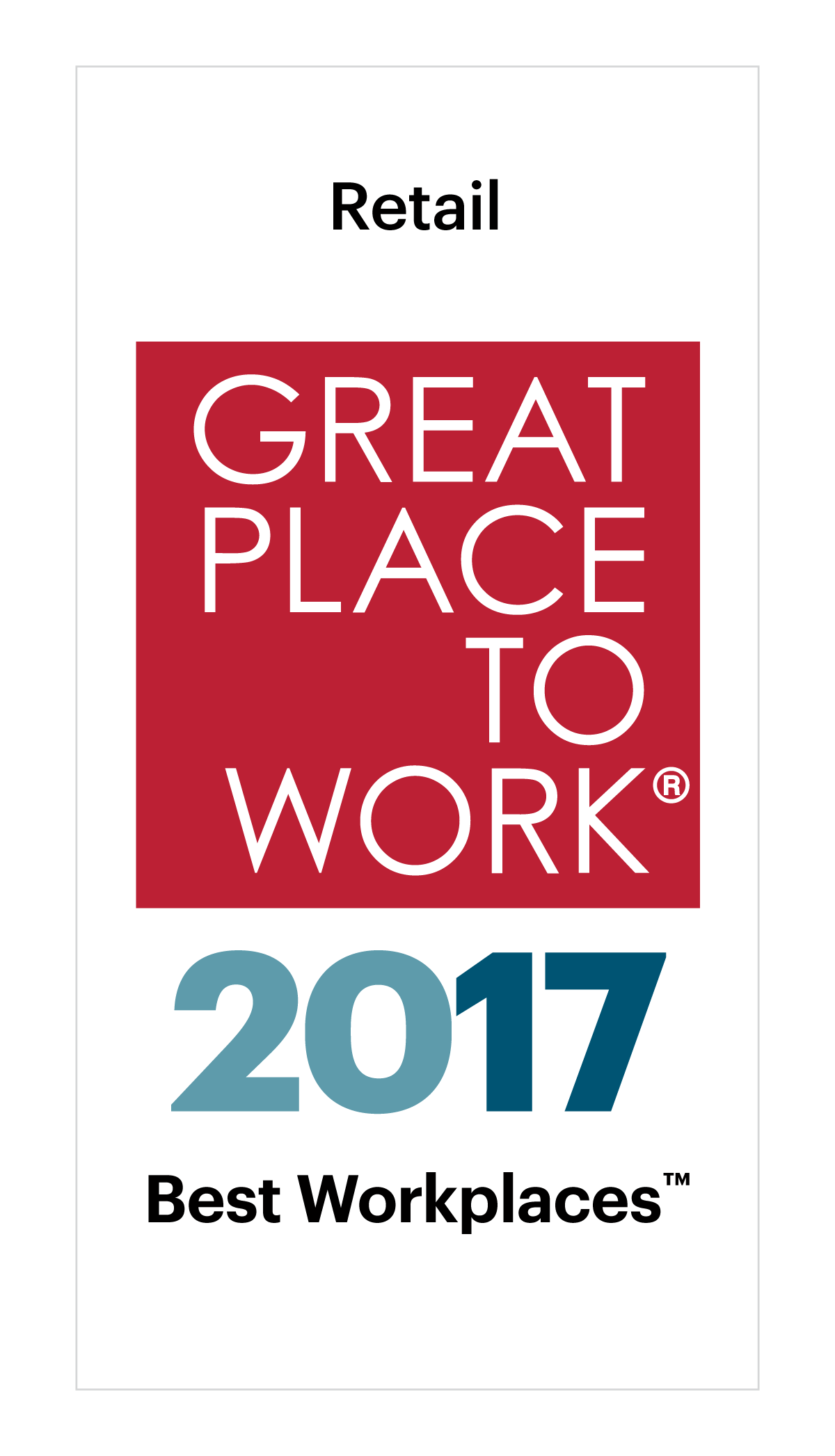 Best Workplaces in Retail 2017
The data science behind this list from
Great Place to Work®
Learn More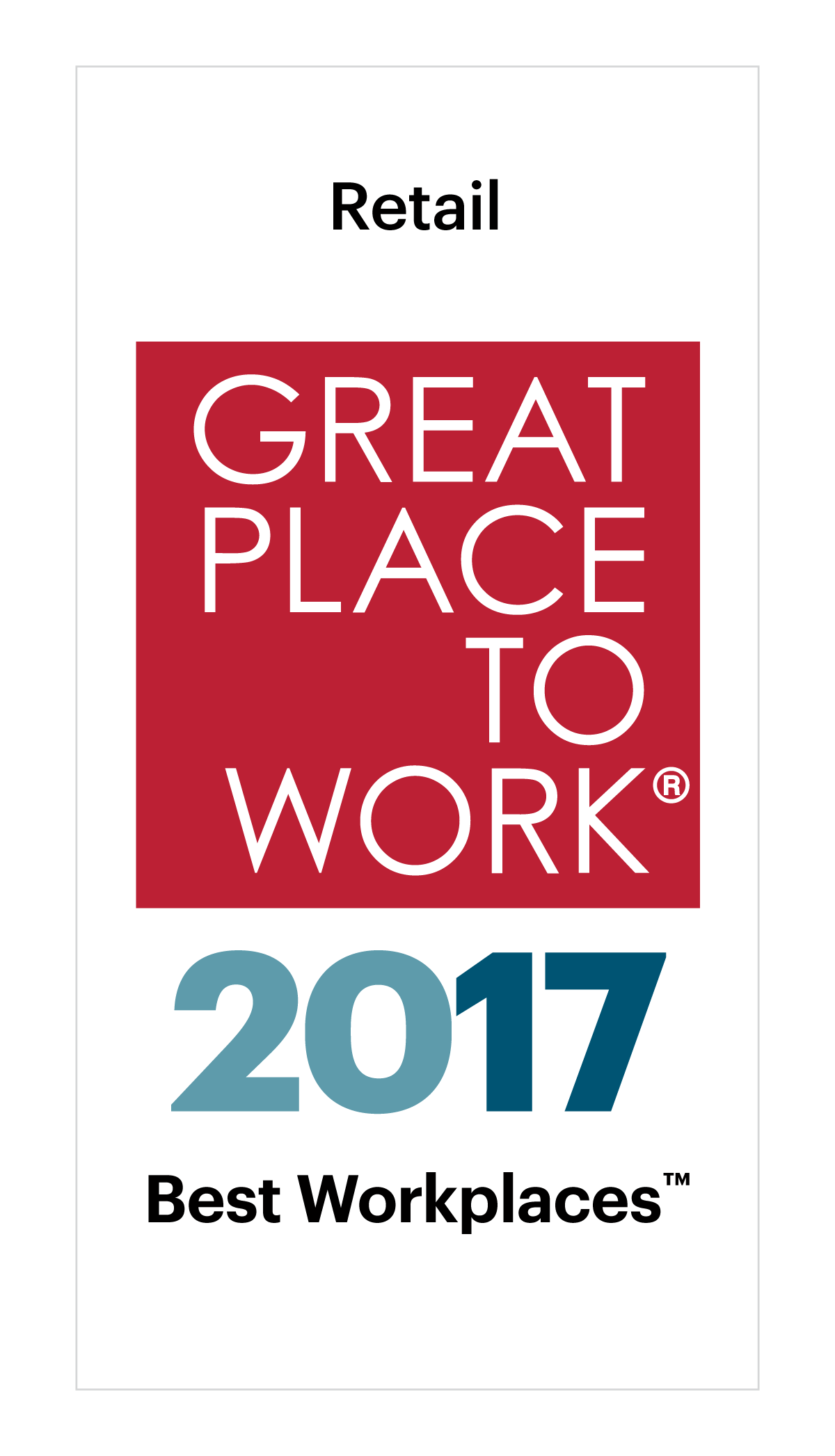 1
Wegmans Food Markets, Inc.
What employees are saying
They're genuinely welcoming to a diverse population of employees. They make a concerted effort to employ older worker, which is refreshing. There is a sincere atmosphere of giving back to the community throughout the Wegmans company.
Read more
2
QuikTrip
What employees are saying
The company is constantly asking the employees how to improve the stores and make changes based on the feedback. This gives employees the feeling that QT cares about them. QT takes care of the employees, who, in turn, take care of the customers.
Read more
3
Publix Super Markets
What employees are saying
Publix promotes from within and takes great care in training employees. There are high standards here and we're always pushed to do things to the best of our ability.
Read more
4
Build-A-Bear Workshop
What employees are saying
This company is awesome to work for because you are able to be a part of your guests life experiences. You get to put the smiles on the faces of your guests grown-ups and children alike.
Read more
5
CarMax
What employees are saying
We have amazing systems in place to hire great talent, train new-hires, and grow tenured employees. CarMax never stops looking for ways to improve, and this holds true from how we choose to run our business to how we constantly develop people.
Read more
6
Nugget Market, Inc.
What employees are saying
This company really pushes having fun. As a Manager I get to encourage my team to laugh and joke with each other. This creates such positive vibes and really pushes everyone to do that little bit extra.
Read more
7
Sheetz, Inc
What employees are saying
Since I am a college student, this is a great place to work for me. Sheetz is very flexible with my school schedule. Also, they offer tuition reimbursement which is extremely helpful to college students.
Read more
8
Recreational Equipment, Inc. (REI)
What employees are saying
REI engages in conversations around gender & diversity in a way that feels authentically mission driven rather than purely commercial. These conversations are not just lip service; the co-op has taken many steps to act on those conversations.
Read more
9
The Wireless Experience
What employees are saying
Doing the right thing because it is the right thing to do is still important to the company. We're a company of integrity and I'm so proud of theat. I love the community involvement, like charity 5k races and food drives.
Read more
10
SlideBelts
What employees are saying
We regularly hand out "kudos" to coworkers to recognize them for anything from a positive attitude to assisting someone outside of their duties. There's a definite team spirit that continues to pervade the organization, even as we grow so quickly.
Read more
11
CustomInk, LLC
What employees are saying
The company is very committed to finding the right person for the job, not necessarily the person with the most qualifications or experience. I've never worked for a company that was so engaged in their own values.
Read more
12
Wayfair
What employees are saying
Wayfair allows you to take risks and you're encouraged to do so even if you fail. Everyone is entitled to their own opinions and ideas. Transparency is important which allows us to be ourselvese and work at a level that is comfortable for us.
Read more
13
Old Navy
What employees are saying
Empowerment makes us a unique retail industry. We acknowledge and celebrate innovators, and allow leaders to be business owners. We embrace learnings and grow people professionally and personally.
Read more
14
Foot Locker
What employees are saying
I appreciate the honest communication from management about the company's goals and how to achieve them. Everyone is essential to the company regardless of what you do; you're an asset and a major contributor to the company in your own way.
Read more
15
Nordstrom, Inc.
What employees are saying
I believe the amount of freedom given to us to be able to assist a customer is a unique quality of my job. This freedom of using our best judgment not only helps our customers but it helps me grow personally as well
Read more
16
Patagonia
What employees are saying
Our environmental and social stewardship increases my pride of working for such a successful company. I trust our upper management to treat us well, treat the environment well, and act as honorable coworkers.
Read more
17
Burlington Stores, Inc.
What employees are saying
Support from the senior leadership team is amazing. Things don't always go right, but when breakdown occurs leadership finds ways to support rather than placing blame.
Read more
18
RevZilla.com
What employees are saying
Revzilla adopts a fun culture while simultaneously providing great encouragement to perform well. As an hourly employee, I feel that I play an integral role in the company's success and that my teammates are equally as vital.
Read more
19
The Container Store
What employees are saying
The integrity our leaders show to uphold our foundation principles despite being a public company. The transparency that we share with our employees, our customers, our vendors and even our competitors is rare and honorable.
Read more
20
Whole Foods Market
What employees are saying
I know I'm going to learn something new every day. Not only do I use my newfound knowledge at work, I use it at home too. Whole Foods Market creates an upbeat environment, leaving their employees gratified when they go home at the end of the day.
Read more